The NFL and Stemulite: What's the Appeal to Football Players?
Professional football players don't really have any down time. They are required to keep their bodies in tip-top shape year round. Training can be strenuous at times, and football players often need improved stamina and a boost of energy to keep moving forward with their training. That's why safe, natural sports supplements like Stemulite Fitness Formula have become so popular among NFL players. Stemulite not only helps build muscle but offers a number of other health benefits that can affect training and playing in a positive manner.
Kevin Boss on Stemulite Fitness Formula
Stemulite Sports Supplements

One reason Stemulite appeals to NFL players is the sports fitness provided without using harmful or illegal substances. Since Stemulite is approved as a safe supplement for the NFL, players can enjoy better health around the clock while also elevating their energy levels throughout training and games. Stemulite has a binary dose for AM and PM; doses are taken in 12-hour intervals. Although a fantastic energy booster, the product does not hinder sleep. In fact, Stemulite provides better rest and enables users to enter the deepest phase of sleep. During this time of quality sleep, Stemulite works along with the body to accomplish muscle and tissue repair. Some NFL players experience better sleep than ever because Stemulite has helped their bodies to heal and repair tissues more quickly. Soreness is greatly reduced or eliminated, even after a long day of training or working out.
During the daytime hours, Stimulite aids the body in fitness training, muscle building and more. NFL players who take Stemulite often testify that they feel well rested each day and are able to recover quickly after strenuous workouts. They can push their muscles the extra mile and enjoy restful nights without tossing and turning due to pulled or sore muscles.
Gary Brackett on Stemulite
Gary Brackett, pro football player for the Indianapolis Colts and Super Bowl champ stands by Stemulite. Gary states, I'm actually getting stronger throughout my workout. Last year I could lift 315 pounds only 3 or 4 times. This year I can easily lift 315 in sets of 8. I'm not paid to endorse Stemulite. I put my name behind it because it really works. I recommend it to my team mates and other players."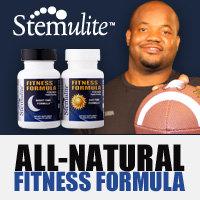 Another football player who has seen positive results from Stemulite is Kevin Boss, starting tight end for the New York Giants. Boss states, "I'm putting my name behind this product because it works. I'm stronger, have faster recovery and better sleep than ever before. It really does work."
Many NFL players have been skeptical of using supplements or any type of muscle enhancer. The reason for the skepticism is the NFL has strict substance rules due to the widespread abuse of steroids in the past. Fortunately, Stemulite passes the grade and many players are realizing its powerful potential to help improve their playing and overall well being safely and naturally.
Stemulite combines several ingredients to stimulate adult stem cell growth and better overall health. These include alkaloids, enzymes, proteoglycans, amino acids, fatty acids, antioxidants, and mineral supplementation. These ingredients form a highly potent supplement that can help fight disease, build muscle, lose weight and provide 24 hour fitness for athletes or anyone who wants to take their health to the next level.
*Results may vary from person to person depending upon various factors
**These statements have not been evaluated by the Food and Drug Administration. This product is not intended to diagnose, treat, cure, or prevent disease.